Glasses Accessories Make You More Attractive
Views: 112 Author: Site Editor Publish Time: 2020-06-01 Origin: Site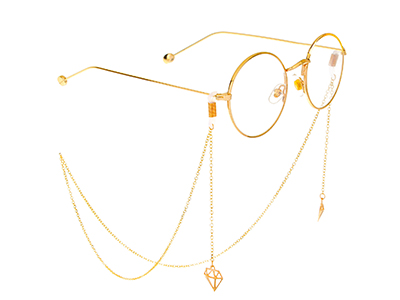 Common people can conquer the world, and small accessories can also make a good pair of glasses. What glasses accessories do you know? What role can glasses accessories play? This article will answer your questions in detail.
Glasses accessories that look younger
How can perfect eyewear accessories be worn to make someone look younger than their actual age? This is a question worth thinking about! I believe no one wants to hear "the glasses you wear are old-fashioned and make you look dull".
How can we capture the attention of others and leave a deep eternal impression? This is only possible if you are ready to surprise everyone with your appearance and want to be a few years younger than your actual age!
With some excellent skills, you can attract the attention of your friends and partners and make them shine! You can currently buy the best quality prescription glasses at the best price. They provide some high-quality materials, you can easily get value-for-money materials. Below we will discuss which eyewear accessories can make you look much younger than you are now.
Glasses with bold blue style


For people with a pair of deep blue eyes, they all want to be the focus of any kind of party. Bold blue glasses will make you look bold. So just choose the old-fashioned style, that is, you can play in the best color and style that best suits your temperament.
Pairing of glasses and face
The most important thing for choosing glasses is the face shape. Hurry up and see which face type you belong to. The round face is suitable for glasses that can extend the contour of the face; the slender oval face is suitable for round frames to modify the face; the square face needs to add an oval frame on the lower half, because the curve of the glasses makes everyone visually different; the rectangular face is also round to improve the visual perception; the inverted triangle is suitable for the square frame to modify the face shape; the diamond face is also suitable for the round frame. In addition, choose the latest fashionable glasses design, so that the appearance looks more fashionable and younger!
Get a fresh and cool glance!
If you want to maintain a low-key personality, but also want to pursue a fashionable style. Then buying a chic and trendy glasses frame is also a good choice. These frames are understated in the most elegant shape! For this situation, both men and women can choose thin glasses, and these glasses will affect your expected attractiveness and can increase your overall temperament. For those with striking green or hazel eyes, they can appreciate the crowd with good looks even without wearing glasses, and they can grab attention every time on almost any occasion! In addition to the classic glasses, the large semi-circular frame and the right frame arm make the glasses look like magic and modify the face shape to be more slender. The colorful thin-frame shape is full of retro style, and the glasses use titanium as the main material, which is also a very popular style.
Concentrated notch cheekbones
As we all know, East Asians generally have flat faces, short noses, and lack facial features. If you wear another pair of unsuitable glasses, from time to time it will fall under the bridge of the nose, and the bridge of the nose will appear collapsed. So for many people who want to play cool with glasses, the effect is counterproductive. How to choose a pair of glasses that enhance the three-dimensional sense of the bridge of the nose and do not slip easily? The easiest way is to lay the open glasses flat on a flat surface, at this time we can see the angle of the lens from the flat surface. For example, having a cats eye glasses can definitely enhance your facial appearance and highlight its structure and lines in a flawless way! If you want to pursue avant-garde style, you can choose to customize a unique style of glasses.
Expensive or Classy, What 's your option?
As we all know, nothing can beat the classic look with a long history, such as a gold frame, which may be completely different from cognac lenses. If you want to combine elegance and style in one, you can choose one to bring the established style and chic appearance! For example, the pursuit of fashion and the design of latest fashion eyeglasses (such as cat-eye glasses) will make your style unique, so as to obtain a sporty and young look. In view of this situation, it is recommended to try using classic glasses with a round, old-fashioned design to make your face look smart. When you buy a new pair of prescription glasses as a fashion accessory, choose the vogue and unique styles!
Where to search for the best online offers? It's time to choose a new style of glasses to show a brand new self.