How to Pick Glasses for Your Face Shape?
author: Emma
2023-04-26
Here is one simple and direct answer —— YOUR FACE SHAPE. Having a general idea of your face shape can be a good starting point when you're shopping for glasses or sunglasses. And this passage will help you work out whether you have a round, oval, square, diamond, triangular, or heart shaped face and choose the perfect pair of eyewear that fit your face shape well.
For many of us, by taking a glimpse in the mirror at our facial features can we possibly determine our face shape. If it's not certain enough this way, let's measure our face's details. The forehead, cheekbones, jaw, and length of the face are fundamental to define. Get a soft measuring tape and note the following measurements:
1)The length of the cheekbone, placing the beginning of the tape measure from the lower outer corner of the right eye, and then stretching it to the other cheekbone, under the extreme lower corner of the left eye;
2)The length of the forehead, placing the tape measure from right to left;
3)The length of the jaw, placing the tape measure under the ear, where your jaw begins, and then stretch it up to the center of the chin. Then, the data must be multiplied by two centimeters;
4)The length of the face, placing the tape measure at the central point of the hairline and then stretch it over the nose and continue to the tip of the chin.

Once you've figured out your face shape, you can start to shop around for frames that are a great fit for you.
Square face has an angular outline, with cheekbones, forehead, and jaw of similar width.
When choosing glasses for square face shapes, select rounded, thinner frames that are wider than your cheekbones, while remaining proportional to the length and width of your face. And glasses that sit high on the nose can add length that flatters this type of face.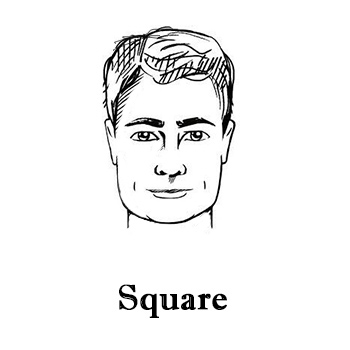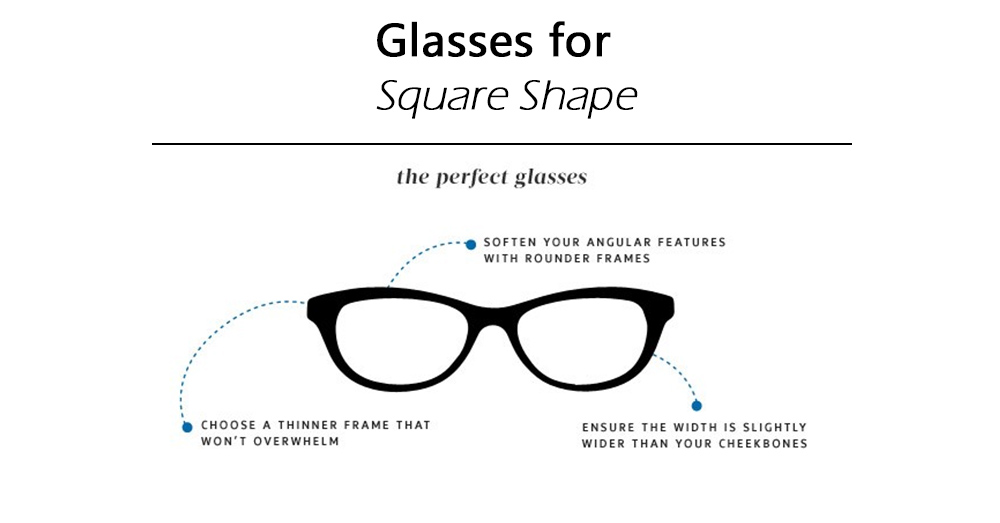 Round frames: Bring contrast to angular features.
Oval frames: Soften and balance defined square face outline.
Colored frames: Draw attention to the eyes.
Sunglasses for Square Face:
Curved sunglasses designs that are wider will help soften sharp angles and balance your cheekbones.
Round face has a soft outline with slightly wider cheekbones and an equidistant forehead and jaw.
If you have a round face shape and look for glasses that fit you, try frames that work to add definition ——style with bold, angular details clean lines: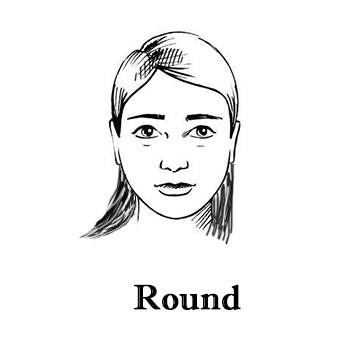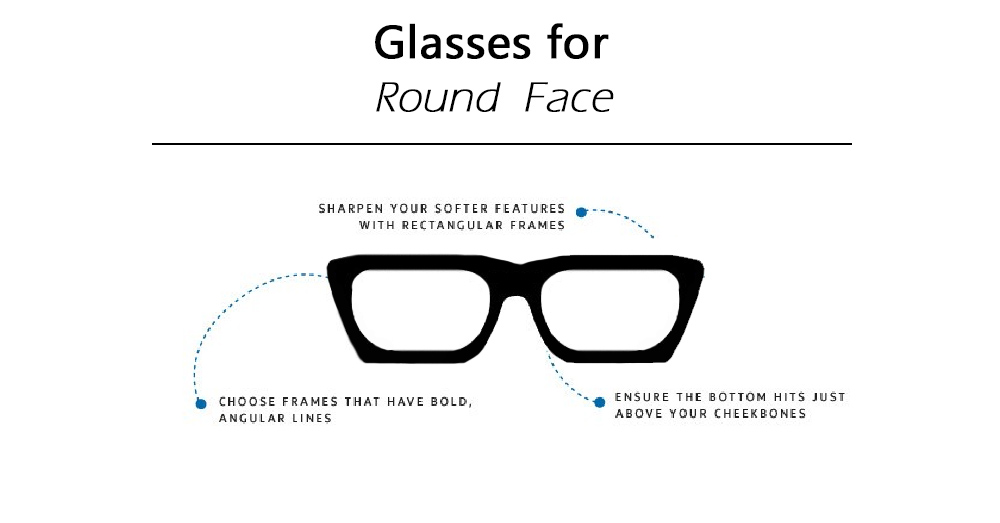 Rectangular frames: Add contrast to facial structure
Angular frames: Add sharp, distinct lines to create balance
Upswept frames (cat-eye, browline): Draw attention to your eyes
Sunglasses for Round Faces  
You can stick to the same advice and make a statement while flattering your features with rectangular, browline, or squared-off cat-eye sunnies. 
Oval face has the forehead wider than the jaw and high cheekbones, while the length of the face is slightly longer at the bottom;
For an oval face, select glasses whose frames are as wide as the widest part of your face (usually the area around the eyes). It looks great for the frames that emphasize the natural balance and add angles to your face's subtle curves.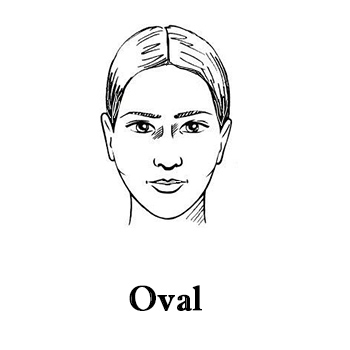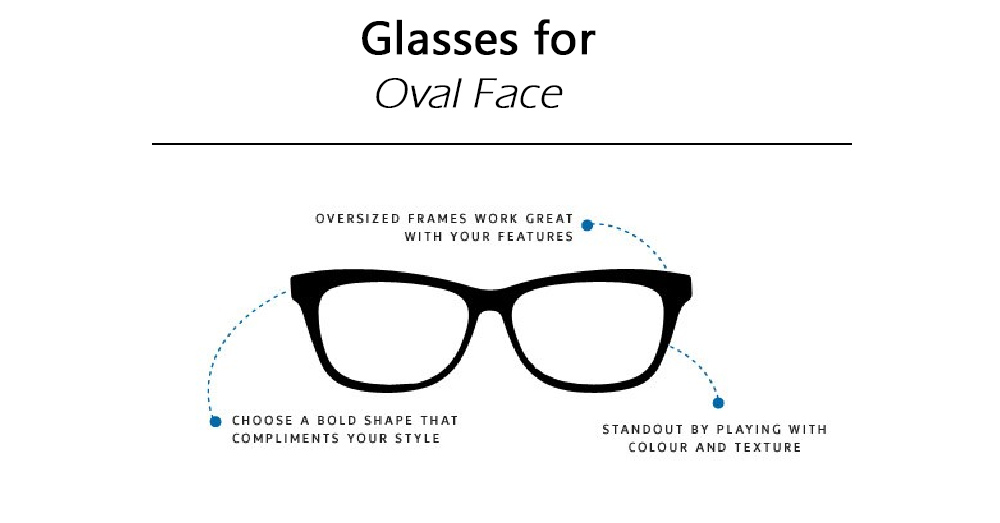 Square or rectangular glasses: Add sharper angles for definition.
Geometric shapes: Get playful with shapes and angular contrast.
Browline: Wide frames compliment a narrow silhouette.
Sunglasses for Oval Faces
Dare to be bold with a statement-making style, like an edgy pair of aviators or a fierce cat-eye. If you'd like to keep it classic instead, try iconic browline sunnies.
Diamond face has a pointed outline, with prominent cheekbones, a small forehead, and a pronounced face length.
Look for frames that draw attention to your eyes while bringing a softer contrast to angular features. Curved frames with delicate lines tend to be especially complementary for diamond-shaped faces. Rimless or oval frame with a strong browline can also help balance your face and highlight your favorite attributes.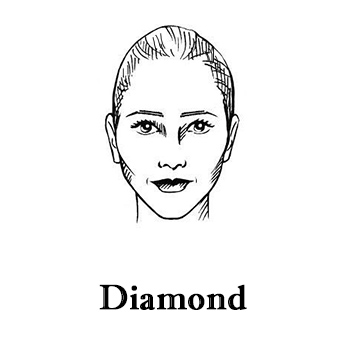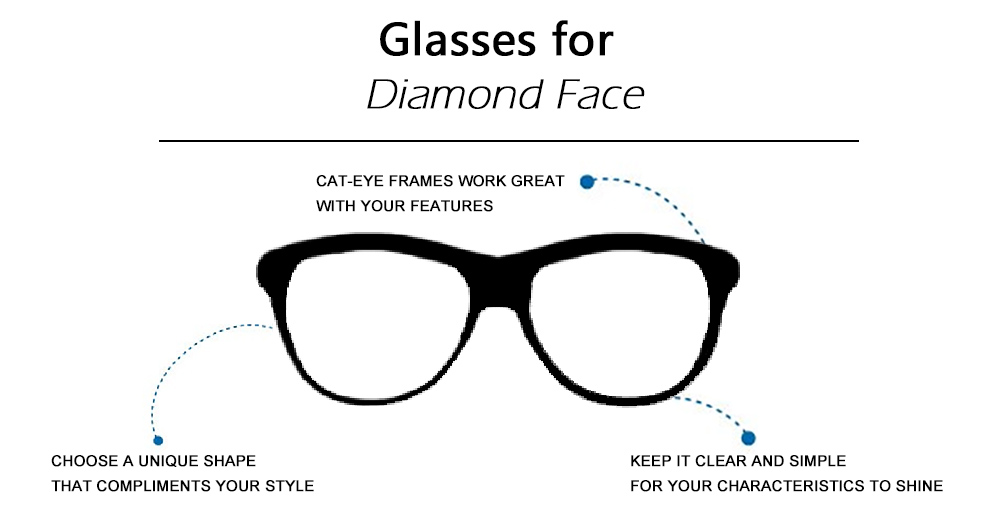 Oval glasses: Balance out angular features.
Cat-eye or browline glasses: Play with opposites and draw the eye to the brow line.
Round glasses: Bring soft contrast to defined forehead and chin.
Sunglasses for Diamond Faces
Look for sunglasses that stand out against your features. Top-heavy browline frames will work well to contrast with your cheekbones, a bold cat-eye will bring both contrast and softness. Rectangular sunglasses are a subtle complementary option.
Heart-shaped face has an obvious outline, broad forehead, high cheekbones and pointed jaw.
There are many types of glasses that fit heart-shaped faces. Square and Oval frames can be a quick and safe option. To balance the shape feature of your face, you can choose rounded base and winged-out frames that jut out slightly wider than the forehead. They'll make your face look much better.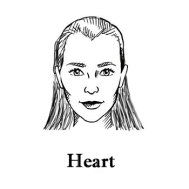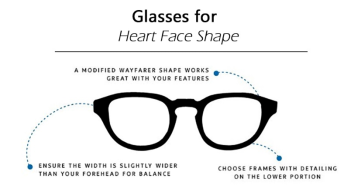 Bottom-heavy frames: If your chin is especially narrow, you may wish to create a bit more width.
Frames with low-set temples: If you're conscious of your forehead's width, choosing this style will draw attention downward, emphasizing the lower part of your face.
Oval-shaped frames: If you have a narrow chin, an oval frame shape will balance your features by drawing attention upward toward your eyes.
Sunglasses for Heart Shaped Faces
Find frames that are proportionate to your face by looking for styles that have a deep base and subtle wingtips that are slightly wider than your forehead. Aviators and browline sunglasses are great options.
Triangular face has an angular outline, with the jaw wider than the cheekbones but the distance of the latter is greater than the length of the forehead.
To compliment your features and add contrast, look for frames that play with opposites (featuring wider top and narrower bottoms) and mix round and angular shapes. To add width to a narrow forehead, try frames that are heavily accented with color and details on the top. That'll work nicely with the lower third of your face to add balance to your look.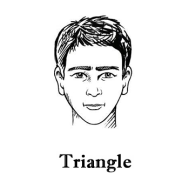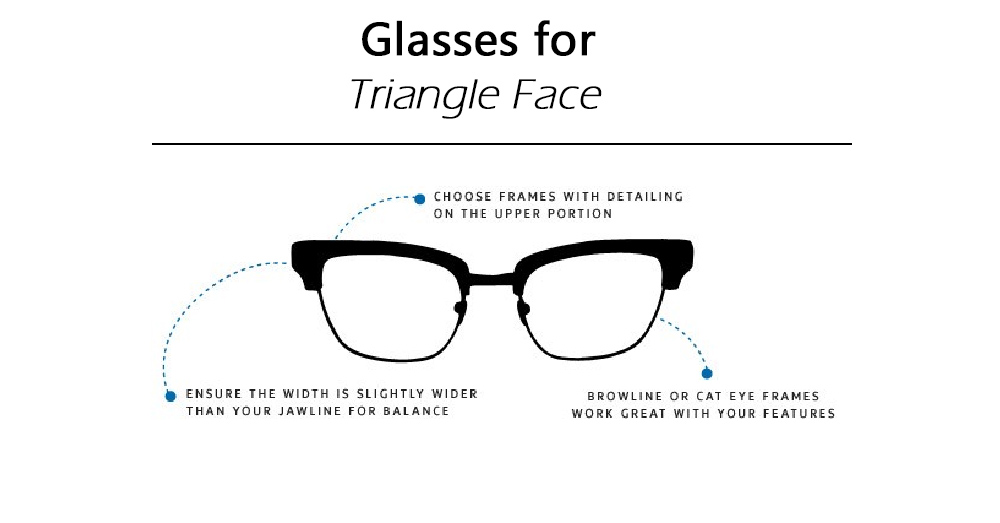 Browline: Defined brow line brings definition 
Aviator: Curved bottom softens cheekbones 
Cat-eyes glasses: Draw attention to your eyes 
Sunglasses for Triangle Shaped Faces
Balance your features with a pair of sunnies that are the complete opposite in structure; look for designs that are widest at the top and narrowest at the bottom.
If you're looking for tips based on a specific feature or the size of your face, here are some additional tips you may need:
Glasses for a small face
For a complementary fit, choose glasses that are as wide or slightly wider than your face – look for a lens width of 50mm-52mm and nose bridge of 14mm-16mm. Consider glasses in a shape that adds definition without overpowering your features, such as rectangular, oval, or cat-eye frames.  
Glasses for a wide face or big head
When shopping for glasses that fit a wide or big head, choosing frames that are slightly wider than your face can often provide complementary proportions.  
Glasses for long faces
Characterized by having an elongated and narrow face shape with very few angles, you may also have a long, straight cheek line. Create an illusion of a shorter and more balanced face shape by trying frames that can add width to your face. Avoid wearing small framed glasses. Frames with decorative or contrasting temples also work well for oblong face shapes, including sunglasses that have deep lenses. The bold and sharp angles and lines will give oblong faces an edge, contrasting its soft features.
Lastly, matching your frame shape to your face shape isn't an exact science, but more like an art. There's no hard-and-fast rule. The only rule is that you need to love your glasses, and that they make you feel comfortable and confident yourself.